My dog passed away when he was 17 years old, I was devastated! My dog brought so much joy and happiness into my life! Losing a pet is one of the most difficult trials in a persons life. Pet loss can be as devastating and heartbreaking as losing a family member. If children are involved it makes it much more complicated.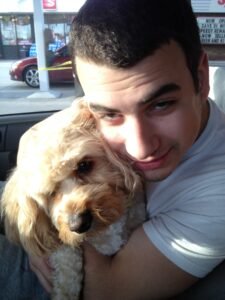 Having a dog becomes a member of your family, its hard to let that family member go. Every family member will deal with the loss of a pet in a different way than another family member. Some family members will withdraw and/or become angry. If children are involved they could handle their loss by acting out and/or constantly crying. No matter what your age is, losing a pet is very difficult.
Pet Urns For Small Dogs, hopes to help you through the healing process and loss of your pet that will allow you to capture the unique bond and memories that was created over the years. We hope you will find something that will capture your heart, expresses your love and gives you peace while grieving the loss of your dog. During this time of grieving we understand your pain and how heartbreaking it is and offer our sincere sympathy and condolences of your pet loss.
When your dog passes away there is many different options to choose from. Our goal is to preserve that memory that you and your dog so respect and deserve, hope that we can help fulfill that special bond that you shared with your dog.
Again my sincere condolences on your loss pet, below is a pet loss prayer hope it helps.
Pet Loss Prayer
Heavenly Father, Creator of all things, thank you for having entrusted us with a loyal pet.
Thank you for letting him teach us unselfish love.
Thank you for the memories that we can recall to brighten our days for the rest of our lives.
Finally, in gratitude, we return our pet to you.
Amen