Ashes In Diamonds-A Unique Way To Remember Your Pet
Laura
Are you looking for a more unique approach to remember your beloved dog? Looking for something a little more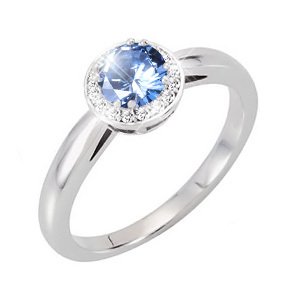 sophisticated, eccentric and elegant? What has become very popular today is having your dogs ashes in diamonds. Technology today lets our dog become precious diamonds. Honor you beloved pet with a one of a kind diamond...
Pets can be more than just best friends. No words can describe their unconditional love and loyalty that they shared with you throughout their lives. What better way to show how much you loved your dog than with a special, memorable gift of cremains into diamonds.
Heart In Diamond will cultivate a unique diamond from your pet's ashes or hair. It can be turned into an item of jewelry, as a symbol of the unique bond you shared.
Every time you look at your diamond it will bring a smile to your face and give you comfort. It will remind of the wonderful experiences you shared and your special bond you shared with them. It is a priceless connection to your loved ones that comes straight from the heart.
With cremation ashes diamonds you can have several made for everyone in your family
What is Heart in Diamond?
As people we have unconditional love for our family, friends and even our pets are being noticed today as being a family member. Our families and even our pets is what makes us who we are today! Heart In Diamond creates a beautiful and eternal diamonds that are highly prized and valued by so many. Their personal diamonds are grown in their laboratory under strictly controlled conditions. To create your individual diamond they add particles of carbon extracted from the ashes or hair of your beloved dog into a diamond growing foundation. This grows into a unique diamond that is linked to your beloved dog at its very core.
Cremation Ashes In Diamonds Jewelry Setting Options:
Heart In Diamond has a variety of beautiful options to choose from.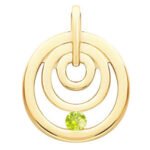 Choice of jewelry styles they offer are rings pendants and earrings. You can also choose your choice of metal, Platinum 18 Karat White or Yellow Gold and 14 Karat White Or Yellow Gold.
Your Choice Of Diamond Cut
Every personal diamond grown in their lab is cut and polished in accordance with the highest and most exacting standards in the diamond industry. You can choose the cut shapes for your diamond offered by their professionals:
Brilliant
Princess
Radiant
Choose Your Diamond Size:
Depending on what you have in mind for the mounted design, you will be able to order your diamond in various sizes from 0.03 carat up to 2.00 carats.
Heart In Diamond Prices START FROM $750.00
100% guarantee for the BEST PRICE on the market
Price Match Guarantee
Individual Payment Plan
Watch The Video Below To See Creation Process 
Tips To Choose Your Color:
Color research is going on in laboratories all over the world. Color therapy is being used by psychologists and business people. Сolor is in every part of life. That is why so important to choose YOUR color. Please see some tips below which can help in making your decision.
Red Energy
Red is associated with fiery heat and warmth, it is the warmest of all colors and most chosen by extroverts. It is also the color of passion.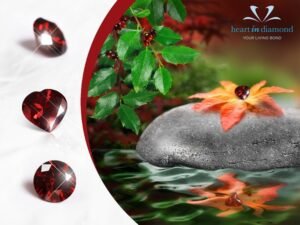 Put some red in your life when you want:
Increased enthusiasm and interest
More energy
Action and confidence to go after your dreams
Protection from fears and anxieties
Red gem stone properties
Red gemstones can be used to strengthen the body, promote will power and courage, add vitality.
Orange Energy
Orange is a color of power and is associated with the benign warmth of the sun. It stimulates enthusiasm and creativity. It is also one of the healing colors. People who like orange are usually thoughtful and sincere.
Put some orange in your life when you want:
Spice things up when you feel time is dragging
Become more involved in something
Increase creativity
Relief from things becoming too serious
Orange gem stone properties
Orange are gentle with a more creative spirit. They are used to promote personal power and are useful for people who could use more self esteem. Carry or place orange gemstones around your home or office to stimulate creativity, mental quickness, ability to adjust to changes.
Green Energy
Green is the color of nature, fertility, life, symbolizes self-respect, balance and well being. It also means learning, growth and harmony.
Green is favored by well balanced people. It symbolizes the master healer and the life force. It often symbolizes money.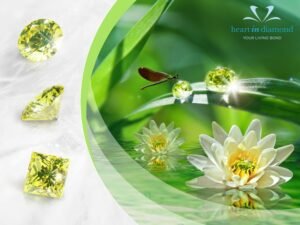 Put some green in your life when you want:
New state of balance
Feel a need for change or growth
Freedom to pursue new ideas
Protection from fears and anxieties connected with the demands of others
Green gem stone properties
Green gemstones are used to attract money, prosperity and wealth. They are balancing stones that promote growth and fertility.
Blue Energy
Blue is the coolest color – the color of the sky, ocean, sleep, twilight.  A pure blue is the color of inspiration, sincerity and spirituality. It is often the chosen color by conservative people and is the calming color.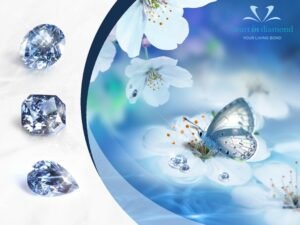 Blue gives a feeling of distance. Artists use it to to show perspective. This is a good way to understand the energy of the color blue – it allows us to look beyond and increase our perspective outward. It contains a cool vibration that is helpful to communication. Using blue to relax will encourage feelings of communication and peace.
Put some blue in your life when you want:
Calm and relaxation to counteract chaos or agitation
Open the flow of communication
Broaden your perspective in learning new information
Solitude and peace
Blue gem stone properties
Blue gemstones promote peace and are used to calm ragged emotions. They are used to provide relief to people who have difficulty sleeping or who have nightmares. They offer inspiration and enhance the quality of communication.
White Energy
The complete energy of light. It stands for wholeness and completion. In many cultures it represents openness and truth. It can provide clarity as its energy is complete.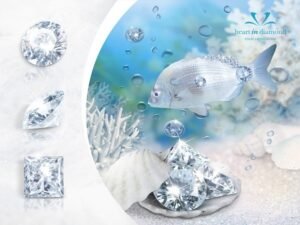 White has purification vibrations and can be used to clear blocks from your path.
It holds the potential to move toward every other color and this makes it a good choice for new beginnings, and development in any direction.
Put some white in your life when you want:
Clear clutter and obstacles away
Start a fresh beginning
Bring about mental clarity
Purification of thoughts or actions
White gem stone properties
White gemstones are ruled by the Moon and are associated with sleep and psychic energy. They are often used for good fortune, protection after dark. The crystal amplifies the powers of other stones. Some say that because white stones contain all the colors, they can act as substitutes for stones of any color.
Ashes In Diamonds Comes With Authenticity Guarantee
A Certificate of Authenticity is issued with every personal diamond grown in their  laboratory. The certificate will confirm the origin of your diamond and include a full diamond grading report.
Heart In Diamond Guarantees that the personal diamond ordered via the authorized representatives is genuine. Their lab grown diamonds are guaranteed to be physically, chemically and optically identical to earth-mined diamonds! Every diamond created in Heart In Diamond laboratory can be checked through their Authenticity Check program.
Your certified Heart In Diamond comes with the lifetime guarantee, ensuring you that your diamond has been created in compliance with all the exacting requirements of diamond growing technology, meaning it won't fade over time or have any defects. However, the following cases are not covered:
Intentional damage such as breakage, hammer marks, scratches, etc.
Loss as a result of theft
Defects as a result of high heat treatment
Natural inclusions that are not defects but the result of growing process
Buyer's change-of-mind
How Long Does The Process Take?
Honor your dog's memory with a one of a kind diamond that comes from the heart