What Is A Keepsake Urn-Keepsake Urns For Ashes
Laura
What is a keepsake urn you ask? Keepsake urns for ashes are designed to hold a small amount of your pets ashes then a full sized urn. Most keepsake urns for pets are very small, holding 1-10 cubic inches of ashes. Many people will buy these urns to share with family or friends. Some people will buy these in an addition to a full size urn. You can also buy these small keepsake cremation urns as sets.
When your pet passes passes away, there's often more than one family member or friend who would like to have a portion of their pets ashes to share the special bond they had.
Cremation Keepsake Urns
These beautiful Perfect Memorials keepsake urns offer variety of shapes, figurines and materials to choose from, hearts, butterfly, cross, treasure boxes, egg shaped treasure box. Some of the materials are stone, metal, ceramic, glass and marble. Also with many of these keepsake urns you have the option to have it engraved and choose from 2 fonts.
Due to the nature of marble, patterns and colors will vary with each cremation urn.
This traditional fossil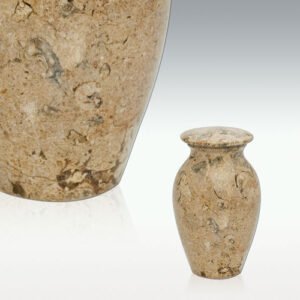 stone small keepsake urn for ashes is a great way to keep your pet close to you with a small portion of  your pets ashes. Opening for cremains is on the bottom of your urn.
Engraving Options:
2 font styles to choose from
Engraving 2 lines up to 12 characters per line
Engraving can be done on the front or back, or both front and back
Tealight Cremation Urns
When you light a candle watching the glow from the candle seems to have a calming and healing affect. These beautiful tealight urns come in a variety of designs, colors and materials to choose from.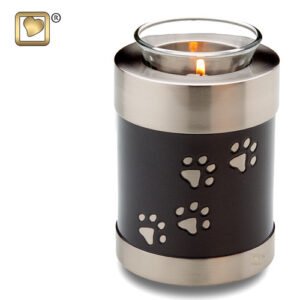 This is another perfect way to remember your pet. Light your candle and reminisce over the memories you shared with your beloved dog.
You do not have the option of have these engraved. Will hold a small amount of your pets ashes.
This tealight is hand engraved with paw prints and made from solid brass. It also come with the glass insert. Its a perfect remembrance piece, light your candle to honor how much you loved your furry friend. Made from solid brass.
Keepsake Heart Urns
These heart keepsake cremation urn is a traditional way to keep a small portion of your pet close to your heart. You can choose from several choices of material, pewter, raku, bronze, gold and metal.
This urn has a like mirror finish and a top lid that opens to insert your pets ashes. It also comes with a bag to hold the remains.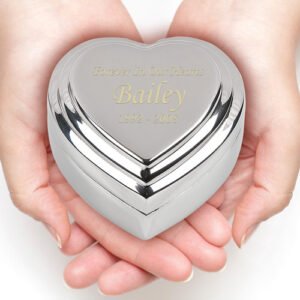 Engraving Option:
2 styles of font to choose from
Engraving up to 3 lines
The Sentiment up to 25 characters
Name up to 15 characters
Date up to 11 characters
Engraving will be done on the front
Keepsake Urn Sets
These beautiful keepsake cremation urn sets are made from solid brass. Comes in a wide variety to choose from. If you have more than 2 to 3 family members or friends this a great way to honor the memory of you pet.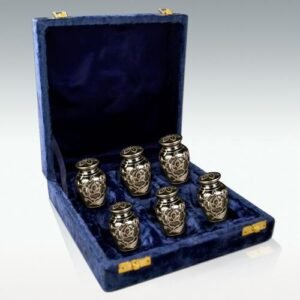 These mini keepsake cremation urns will hold a small portion of your pets ashes and are for sharing. You do not have the option of having theme engraved. Case color may vary.
Includes case that hold your 6 mini keepsake urns
Free delivery in the United States
Secure top opening threaded lid to insert your cremains
Summary
What is a keepsake urn, keepsake urns for ashes are simply smaller cremation urns that allow families to share there love for their dog. There are so many to choose from these are just a few of my favorite ones.
If you would like to see them all click here