Pet Ashes In Blown Glass
Laura
Losing your dog is like losing a member of your family. Pet cremation jewelry pendants is becoming a very popular way to keep your pets memory alive.
Not everyone likes the feel of a traditional pet urn that sits on the shelf and collects dust. pet ashes in blown glass  is a unique way to remember your pet and keep them a little closer to your heart.
Why Blown Glass Cremation Jewelry
Each pet cremation pendant is carefully handmade and not made by a factory or machine. With that being said this is "amazingly different from anything I have ever seen!" Your pet ashes are melted into a hot glass and are preserved into a piece of hand blown glass. Since the glass is handmade, you will never get two pieces of pet cremation jewelry that will ever be alike.
This unique glass pet cremation pendant is encased and now lets you and your pet go anywhere with you. Pet cremation pendants are round and have a flat back that will lay nicely against your skin. The front of these pendants are rounded in a convex lens shape that slightly magnifies your pets ashes and design inside and gathers light into the pendant.
You Can Share Your Pet Ashes
Many pets were also loved by other members in your family. Pet ash cremation jewelry allows you to take a small amount of your pet ashes and make several blown glass cremation pendants.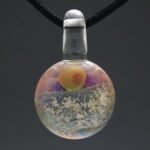 This makes it easier for everyone to share the love and bond that you all shared with your beloved dog.
What Is The Type Of Glass That Is Used?
Borosilicate glass is all that is used on all pet ashes in blown glass. Borosilicate glass has a longer lifetime. It's a lot stronger than the glass that is used for glass art bowls and ornaments. Borosilicate glass is so strong its used for stove top cookware. This glass is also used by scientists, such as beakers and test
tubes because of its strength.
After the glass is goes through the finishing process it is much more durable. This is especially important for the day to day wear in pet urn jewelry. The Borosilicate glass is used in all cremation pet jewelry and has survived many accidents without cracking or breaking
 How To Order
If you've only recently lost a pet, all you need to do is order the items you would like. Within a week (for USA orders), you will receive a package with a kit that you can use to send your pet's ashes in. Included in the kit is a beautiful blue glass jar, small measuring scoop, a card with detailed instructions and a prepaid return mailer. Once your order is received, you should have your order made and shipped within 2-4 weeks.