Laser Engraved Pet Urns-With Your Dogs Favorite Photo
Laura
When you lose your dog you want to find a special way to remember your beloved pet that captures his/her personality. When we lose a member of our family it takes a toll on the entire family. Are you looking for a dog urn with your pets picture on it without the actual photo being placed into your pet urn? There is an option to have a laser engraved pet urn made. . .
Cremation Urn For Dogs
This beautiful black tile urn for your dog is made from composite wood and features a black granite tile.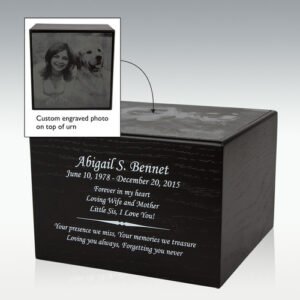 With this laser engraved pet urn you simply email or mail a high resolution copy of your favorite photo memory and that image will be reproduced onto the top of the solid black memorial plaque. The picture will be laser engraved into your pet urn for your dog with amazing black and white detail. The urn is easily sealed through the bottom with a removable base and four screws. Recommended for indoor display only.
Optional Engraving
You have an option if you choose to have your urn engraved it can be done in either a script or block style font. Engraving can be up to 5 lines with a total of 35 characters on each line. Your engraving will be done directly on the front of the urn.
Poem Options
You also have the option to have your urn engraved with a poem. There are 5 poem options to choose from. Below is one of the poems you can choose to have engraved on your pets urn.
Losing You
Our hearts still ache in sadness,
And secret tears still flow,
What it meant to lose you,
No one will ever know
Summary
I like the thought of having your favorite photo memory of your dog lasered onto your urn, with the personal touches you can add making it one of a kind, with the engraving options up to 5 lines and the poem choices to choose from. With this laser engraved option you would not have to worry about the photo fading over time, photos getting lost or crinkled.