Wooden Pet Urns-Variety Of Handcrafted Urns
Laura
Grieving the loss of a pet is very difficult. Everyone that has ever owned a pet knows the strong attachment and bond that develops with our pets. Wooden pet urns helps to honor the unforgettable memories and bond that were shared with our pet.
These wooden dog urns features a combination of exotic woods to create a special final resting place for your beloved dog. Each pet urn is hand crafted with a gifted artist. The care that is taken with each urn leads to a craftsmanship that speaks for itself when you hold your dogs urn in your hand.
Choose from a wide variety of handcrafted wooden pet urns to fit your and your pets memory. From hand turning wood to old world techniques. These artists are truly gifted…..
Curly White Oak Pet Urn
This wooden pet urns body is crafted out of Curly White Oak, known for its beauty and exotic wood. A beautiful way to display your pets memory in your home.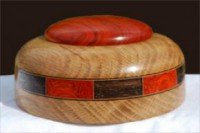 .
Coco Wood Pet Urn
This urn is beautifully made out of light weight coco wood.. You can place this wooded dog urn anywhere in your home to honor your pets memory. This urn comes with a 100% cotton pet cremains pouch to hold your pets cremains.
Labarde Wooden Pet Urn
This beautiful light maple urn is beautifully finished with high gloss lacquer and composed walnut inlays.. With this wooden dog urn you can secure your pets cremains inside the urn, securing it with a Phillips screwdriver.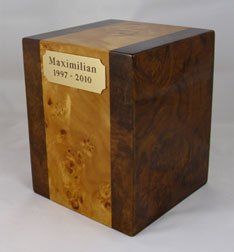 .
Wooden KeepSake Box
This beautiful espresso finished keepsake box has a place to put your beloved dogs photo on top. You also have the option of engraving your keepsake box. Inside your wooden keepsake box is finished with black velvet. You can place beloved keepsakes inside, keep a small bag of your pets cremains, pictures, dog tags, collar etc…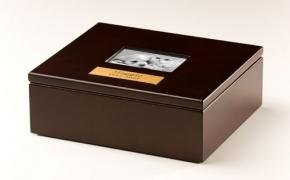 Please click here to view more options