Pet Memorial Garden Stones-Optional Cremains Insert
Laura
When you lose a pet its one of the most devastating times in you and your families life. If you are a pet owner then you know that unique bond that you shared with your dog. You will never forget the memories you shared with your companion. 
With pet memorial garden stones you can make the memory of your beloved dog live on forever…
With dog memorial stones you can find a special place outside where you shared those special moments. Choose a place in your garden, a rock garden, under your dogs favorite tree or a special spot where your dog would like to lay outdoors.
When you lose your dog you want to choose an option that will give them the respect and unconditional love they showed you…..
These pet grave markers for dogs offer a permanent and touching way to honor your beloved pet..
These beautiful stones offer optional engraving, are highly detailed, and durable. Due to the nature of the stone, sizes, shapes, colors and thickness will vary with each custom engraved stone.
Pet Grave Markers-Optional Cremains Insert
These personalized pet memorial garden stones are made from all natural bluestone
and has a unique option, a small hole can be added to the bottom of your stone, comes with a secure plug and small capsule to keep small portion of your dogs remain or a lock of hair. All stones are weatherproof. Engraving is done on the front of the stone.
Additional options:
Variety of fonts, 4 to choose from
Engraving up to 4 lines with a total of 25 characters per line
Variety of artwork to choose from with two image options (Standard or Premium)
With Photo Ceramic Tile-Optional Cremains Insert
This personalized memorial garden stone has a beautiful feature of an inlaid photo ceramic tile.
The photo that you choose is fired onto the tile in a kiln permanently setting your photo on to the tile. The tile will not ware or fade over time. The edges are sealed to give it a lasting bond.
Guaranteed against fading, breakage, vandalism and deterioration
Additional Options:
Variety of fonts, 4 to choose from

Engraving up to 3 lines with a total of 15 characters per line

Only one standard image to choose from (standard)
Pet Memorial Garden Stones, Without Cremains Options
If you are looking for a stone without the cremains options there are several options that you can choose from. These stones are made from all natural stone. You have the option to personalize your own garden stone. An optional engraving can be done in a variety of fonts.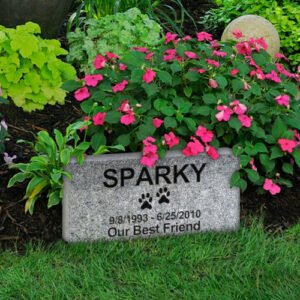 Engraving can be up to 6 lines on some stones with up to a total of 25 per line depending on the stone you choose. On some stones you will also have the option to choose from a variety of artwork with Standard or Premium imaging.
As pet owners we know our beloved pet will never be forgotten. With a beautiful pet memorial garden stone personalized you will be able to honor their memory for years to come! My deepest condolences.

We know you will find a pet stone that will honor the memory of your companion and help with the healing of the loss of your dog.