Photo Urns For Pets-Engraving Options
Laura
Photos of our pets can help us remember the happy times that we shared with them. Our dogs have brought us so much joy and they do know how to make us smile even when we were having a bad day! Sharing your dogs memory with photo urns for pets helps us remember the happy times that we shared with them.
Photo pet urns will hold your pets remains plus photos. You have such a variety of styles to choose from that fits every dogs personality, oak, walnut, maple, cherry, rotating cube, option of having it engraved.
You also can choose your photo shape, large or small photos, heart, round or square. You also have options you can choose to personalize it more with a photo and choice of a poem.
Every time you look at your beautiful urn with your dogs photo in it-it will bring a smile to your face to be reminded of all the joy your pet brought into your life.
Rotating Urn-Spins 360 Degrees
Can't decide on what picture to put in your urn or you want to put in several photos of your dog. Rotating urns is a nice option to display up to 6 photos. Each side of the urn will hold a 2″ wide by 3″ high photo.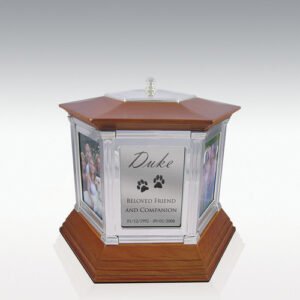 The base of the urn can spin 360 degrees so you are able to see all your favorite photos that you placed in your urn. You also have the option to personalize this urn with a poem insert.
Rotating cube will hold 5 pictures and the top half of the urn can spin 360 degrees. This photo urn will hold a photo size of 3 1/2 wide by 3 1/2 wide.
Pet Memorial Photo Keepsake Box
If you want a photo urn with a place you can keep your treasured keepsakes like your dogs collar, lock of hair or more photos so everything is in one place this cremation urn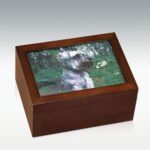 is a beautiful choice and made from solid windsor cherry wood. The inside of the compartment is lined in velvet and also features a removable, velvet covered shelf to store memorable keepsakes. The top lid opens and will hold a photo of  5-1/4 inches x 7-3/8 inches.
Engravable Name Plate
If you you want to personalize your urn with your dogs name you have the option to have a name plate engraved with a choice of your personal touch of art work (for example paw prints).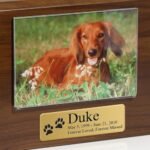 The name plate is made from leaded brass. The urn is made from solid hardwood lumber and will hold your dogs favorite 4 inch x 6 inch photo.
This Photo Urn Has It All!!
This urn has everything! If you want to have your urn engraved, choose the shape of your photo insert, round, heart or square. Choice of 2 font styles. Also you have a choose of poems to choose from.
 This urn is made from composite wood with a walnut veneer. On the bottom of the urn is covered with soft felt to protect your furniture from getting scratched.
All urns are made to be easily sealable
There are so many options to choose from, this is just a few of them. If your would like to see them all please go ahead  click here